Proud of our partners at Just Play, they've had an incredible year and looks like they are going to provide even more for this upcoming season. Love their passion and commitment to innovation. See below –
Originally posted on justplaysolutions.com
The 2017-18 basketball season is fast approaching, and we've been working hard this off-season. Because we're experiencing rapid growth with hundreds of teams now using Just Play, we've sped up our development to provide more features and opportunities for coaches. We will continually invest in our team and our product and are thrilled to share some of our new features to show what Just Play can bring to your program. If you have any questions, feel free to reach out to learn more.
Versatility
Our system gives you endless options, and more and more coaches are getting creative with how they use Just Play.
Practice Evaluations
Create self-scouts, add film, provide practice notes, and even add "practice stats" to your players. Just Play makes it simple to create a self-scout to provide practice feedback and stats to your players instantly.

Be on the lookout for an upcoming article on how Michigan Women's Basketball utilizes Just Play for their practices.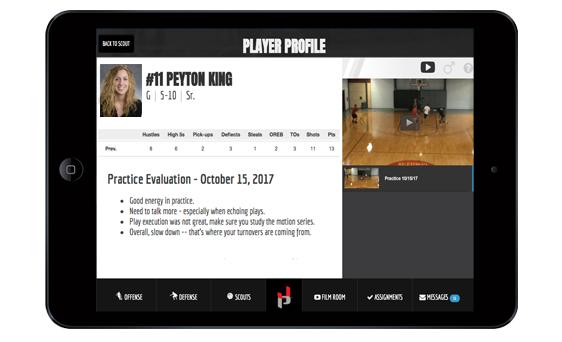 Clinics
Use Just Play for a virtual clinic. Upload video, create play diagrams, and add slides to effectively teach players and coaches at all levels.  Use Just Play for your next whiteboard session!

*Purchase a camp-only Just Play system to create and sell content to your campers.  Great to continually engage with elite players that want to learn!

Saving Your Staff Time
Upload Film Quicker
Enjoy faster video uploads with FULL HD capability! Get your film in the hands of your coaches and players in time for the trip home. Stay organized with more dynamic video folders and organization. Quickly search and find anything you need and launch our video player to watch full HD games, clips or practice!
Real Time Staff Collaboration
Collaborate from anywhere! Real time updates mean you can

instantly

view, edit, and add to scouts or players' notes. No need to refresh your screen. Collaborate with your head coach who is on the recruiting trail or your graduate assistant who couldn't make the trip.

Aggregating Opponent Research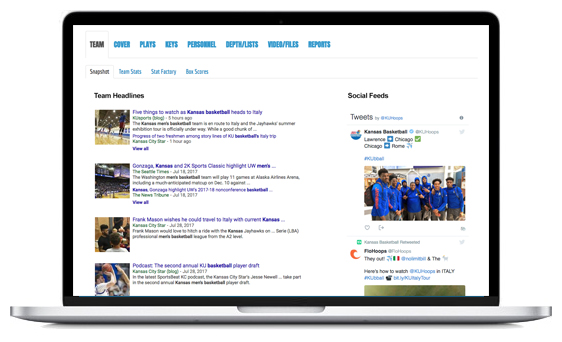 Team News Feeds
Begin your scout preparation with Just Play. Our new Team News Feed keeps you up to date with your opponents' team news and select twitter feeds. Find out what opposing coaches said about their last game or read their Game Notes.
Social Feeds
Why didn't the best player on your opponent's team play last night? Input social media feeds of players, coaches, and teams to follow them throughout the season. If they tweet, you know it – instant "bulletin material".
Even More Stats, Rankings, and Reports
Dive deeper into your opponent with more stats, national rankings, and reports.  Create dynamic cumulative stats sheets and drastically improve your game planning.

Offline Apps for the 2017-18 Season
We are releasing updates to our coach and player apps that provides full offline capabilities. Players will have native apps for any platform allowing them to prepare at home or on road trips.

Access Anywhere
Players will be able to view their virtual playbook, film, and scouts without having to be connected to WiFi or use data.    
Scout Presentations
Want to use Just Play for team scout presentations?  No need to ensure you have a good internet connection – take us offline and present to your team worry free!
Home Visits
Build out your home visit presentation in Just Play.  Add PowerPoint slides, video tours of campus, and even game film to allow your recruit and their family to really understand what your program and campus is about!  They even have the opportunity to follow along on their computer, iPad, tablet or any mobile device.

All the Old Features – Even Better
Teaching Universal Terminology
"Flare", "Help Side", "Screen and Step", "Shape Up" – 

do your players know what it means?

Getting your international players and freshman on the same page is a process.  Let Just Play cut that time in half with our "Terminology" section.  Diagram specific terms, describe them, and back them by video to give your players a way to study before they even get to campus!