Coaches, as most of you know by how busy you all currently are, the season is rapidly approaching and teams are beginning to prepare for their first several games. I am confident that most of you are well aware that I am in support of the up and coming company Just Play Solutions. 
I am also aware that many of you are familiar with a company called FastModel. Let me start by saying that I want to applaud FastModel on their accomplishments to date and thank them for all they have done for the coaching community.
But after talking to many coaches, I have to ask do these companies even compete?
For Fast Model, complacency set in. They have fallen short in listening to coaches' requests, and are failing to continue to innovate. Coaches are still awaiting their "NextGen" updated promised back in April. 
On the flip side, the growth that I have seen out of Just Play in the past year is shocking. Honestly, it doesn't happen very often, but somehow these guys have figured out the recipe for success.
If you view these companies as competitors, I might suggest taking another look. Sure, they both provide playbooks and some similar scout features. However, FastModel hasn't updated their scouting report technology in many years, while Just Play is pushing out their second major update this year.
For example, Just Play has a Presentation Mode within their system that automatically builds your scout presentation from any device, even your phone.
Fast Model doesn't really do anything like that? I really wouldn't say these two compete.
We are in a relationship business, so I get the idea behind staying loyal to certain people/brands, but don't you think you should be asking some questions if top executives and those that helped build Fast Model's brand are leaving the company.

To get a better feel, I talked to some coaches and put together a side by side comparison of the tools on the market today. It's easy to get lulled to sleep with companies saying, "Oh, It'll be there" or "We have it coming." However what matters are what coaches can use right now.
| | | |
| --- | --- | --- |
| Feature | Just Play | FastModel |
| Drawing Tools | Computer/Laptop | Computer/Laptop/iPad |
| Animated Plays | "Gamelike Animation Timing" | x |
| Playbook Sorting | Unlimited Categories/Tags | Year, Series, Team |
| Print Capability | Yes | Yes |
| Ability to Work Offline | Yes | Yes |
| Stat / Scout Automation | NCAA Division 1, 2, 3, NAIA | NCAA Division 1 |
| Player App | iPhone, iPad, Tablet, Android, Laptop | x |
| Video Integration | All Video Editors, Youtube… | x |
| Video Quizzes | Classic, Stopwatch & Recall | x |
| Presentation Mode | Clinics, Scout | x |
| Team Engagement Data | Reports of Quiz/Usage Study | x |
| 24 / 7 Support | Direct Phone Support | Email Support |
| Price | Less Expensive | More Expensive |
I am not saying all this because I am trying to put down FastModel, I am explaining this because companies are starting to take advantage of coaches by continually raising prices, and not doing anything else for them.
Really – I just think coaches and players deserve more. Look at this below, all available on a mobile phone: Animated diagrams to better show players timing, notes so they can better understand the assignment and video so they can watch it executed. It really doesn't get much better for player development and learning with Just Play.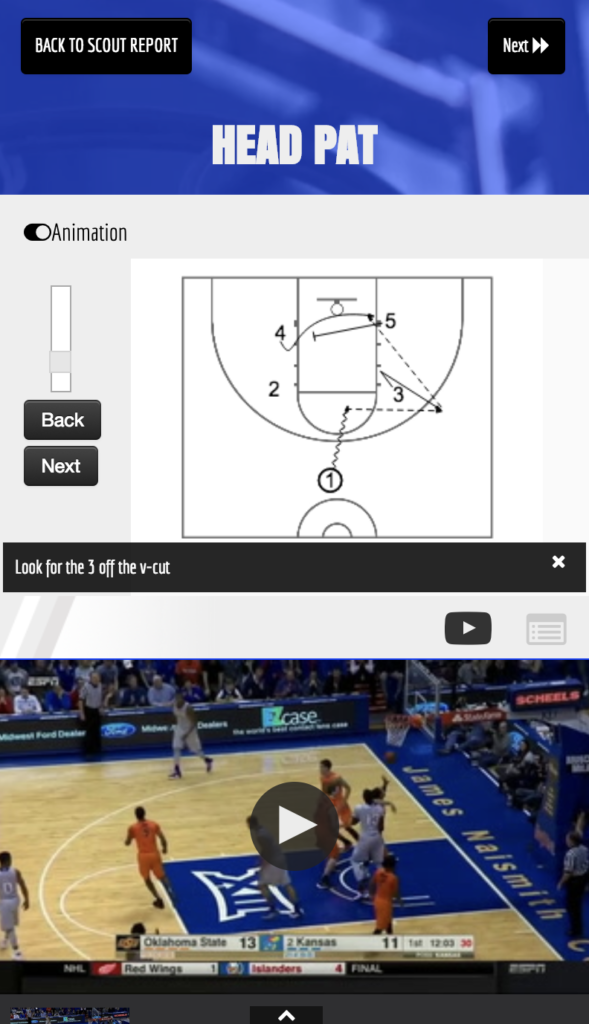 The big concern I've heard about switching to Just Play is the libraries of plays or scouts coaches have with FastModel. If I were coaching, I would just have Just Play convert everything for me, that way I'm set up and rolling, players learn faster and I can keep coaching – seems like a no-brainer… Don't let something like that get in the way of losing a competitive advantage this season.