The season is drawing closer and many teams are getting an early jump preparing. Whether they are working out players or passing out playbooks, everyone is itching for the season and that first practice.
This time of year is great for getting mentally and physically prepared for the season. When that first practice comes, you want everyone geared up and ready to go. However – let's talk about the importance of not losing time. We have about 60 days until the first games, which provides ample time to effectively prepare. But are you?
I'm writing this because we were working with a college staff last week that had this NBA play diagrammed up for their players. My first reaction was how do your athletes know what to do and when to do it?
Or another maybe more simple option that looked like this:
The answer is that they probably don't. There are exceptions, of course, but most athletes can't consume timing from a static diagram. Therefore, the importance of showcasing perfect timing, and demonstrating ideal execution is critical for the teaching process to take full effect.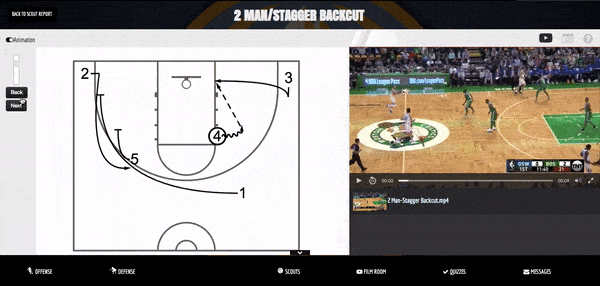 Without it, your players might be asking questions like
"Do I cut as the pass is happening?"
"Do I need to wait on that screen before going to the block?"
Imagine a situation where your players know this from the first day of practice. Imagine more confident players. Imagine having more trust in your freshmen? Imagine your whole team and staff being on the same page and knowing exactly how the play is designed.
Teaching players is a process and Just Play streamlines and enhances that process. Teams using Just Play have proven that the process produces faster results for player learning. Imagine mentally being in mid-season form at the beginning of the year. On the flip side, imagine not doing this – and trying to compete with a team that does.
Everyone always says "Trust the Process." Well, trust the process to better teach your athletes. In less than 2 days your entire staff can be up and running utilizing Just Play to better teach your players. Then the question becomes what will you do with the extra 58 days?
---
Join the 500 teams that decided to bridge the gap between them and their players to better prepare and better teach their athletes. Schedule your Demo Today!

Not D1? Not a problem! Just Play offers automated stats for NCAA Division II/III & NAIA programs. Save 4-6 hours every week on scouting reports. Let us help take your program to the next level!

Tagged with: